MEET OUR ATHLETIC TRAINER
Sterling Wellness Center's Athletic Trainers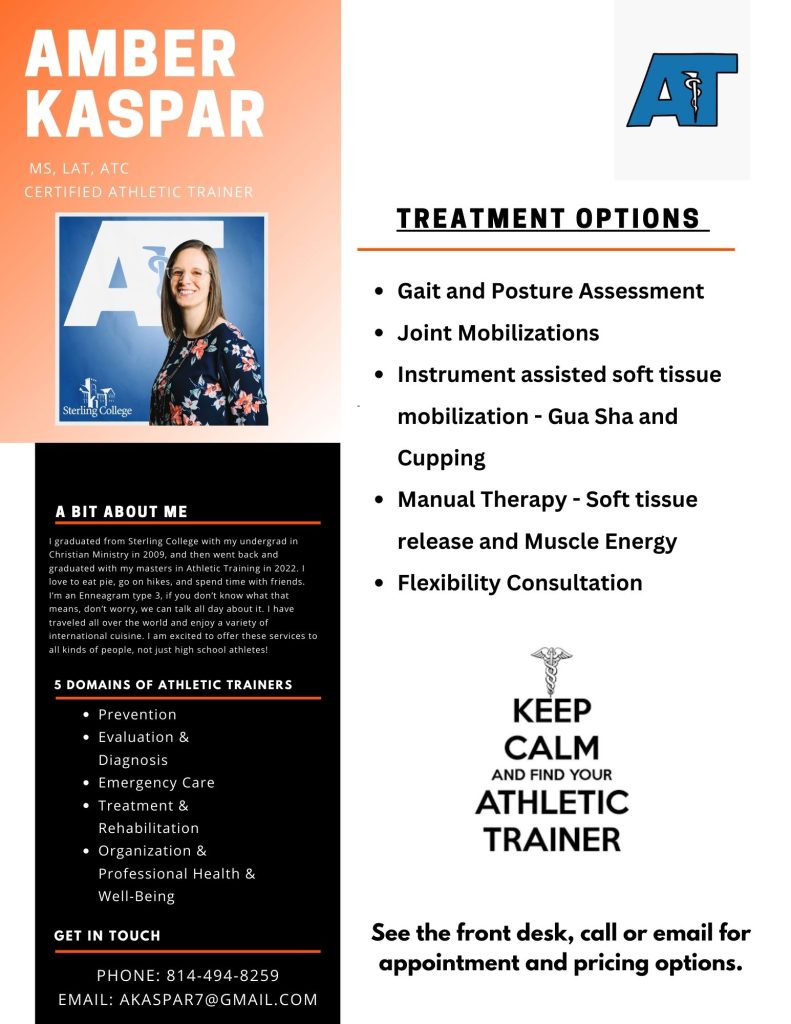 𝗪𝗲 𝗵𝗮𝘃𝗲 𝗘𝗫𝗖𝗜𝗧𝗜𝗡𝗚 𝗡𝗘𝗪𝗦!
The Sterling Community Wellness Center members now have access to an athletic trainer who can help you make the most out of your time here! If you've never worked with an athletic trainer, you may be wondering what they do and how they can help you. Athletic trainers play an integral role in helping members recover from injuries, but they do other things as well. Let's take a closer look at these professionals and how our athletic trainer may be able to help you!
𝐖𝐡𝐚𝐭 𝐢𝐬 𝐚𝐧 𝐀𝐭𝐡𝐥𝐞𝐭𝐢𝐜 𝐓𝐫𝐚𝐢𝐧𝐞𝐫?
An Athletic Trainer is a trained professional who specializes in the prevention, diagnosis, rehabilitation, and education of injuries related to sports, fitness, and exercise. They work with all types of active people – not just athletes.
Many people use the terms "athletic trainer" and "personal trainer" interchangeably, without understanding how an athletic trainer's job is different. Athletic trainers can help prevent injuries or the recurrence of injuries, and their expertise in the care of the body is usually more extensive than a personal trainer.
𝐇𝐨𝐰 𝐂𝐚𝐧 𝐚𝐧 𝐀𝐭𝐡𝐥𝐞𝐭𝐢𝐜 𝐓𝐫𝐚𝐢𝐧𝐞𝐫 𝐇𝐞𝐥𝐩 𝐘𝐨𝐮?
If you're new to exercise, recently suffered an injury, have pain during your exercise, or want to prevent re-injury, you may benefit from working with an athletic trainer. But anyone who wants to stay safe during exercise or just wants to learn more about injury prevention should consider talking to an athletic trainer.
𝐎𝐮𝐫 𝐀𝐭𝐡𝐥𝐞𝐭𝐢𝐜 𝐓𝐫𝐚𝐢𝐧𝐞𝐫 𝐢𝐬 𝐀𝐯𝐚𝐢𝐥𝐚𝐛𝐥𝐞 𝐭𝐨 𝐀𝐥𝐥 𝐌𝐞𝐦𝐛𝐞𝐫𝐬
Amber Kaspar, MS, LAT, ATC, is the athletic trainer here at the Sterling Community Wellness Center. You're welcome to stop in or schedule an appointment to ask questions or find out how she can help you.