ABOUT THE WELLNESS CENTER
Fitness Challenges
Workouts for Wounded Warriors:
6-weeks Challenge to raise $$$ for our Heros!
Starts Friday, Nov. 11 (Veteran's Day) – Dec. 23
Sign up:
$5 per participant This money will go towards a jackpot for the winners of  the challenge.
WE'LL MATCH YOUR WOKROUTS FOR MONEY:
For every workout logged by participants at SCWC, we (SCWC) will donate $$$ to Wounded Warriors Project.
If you don't want to be in the individual challenge ( winning the jackpot money for most workouts logged in the 6 weeks). You can still sing up so that your workouts still count towards the money raised for the wounded warrior project.
THE FACILITY
The over 5,000 sq. ft., 45′ x 125′ block structure with brick facade, will devote 1,000 sq. ft. to cardiovascular and general weight equipment. Another 2,500 sq. ft. is solely for free weights, Olympic lifting, and Hammer Strength equipment.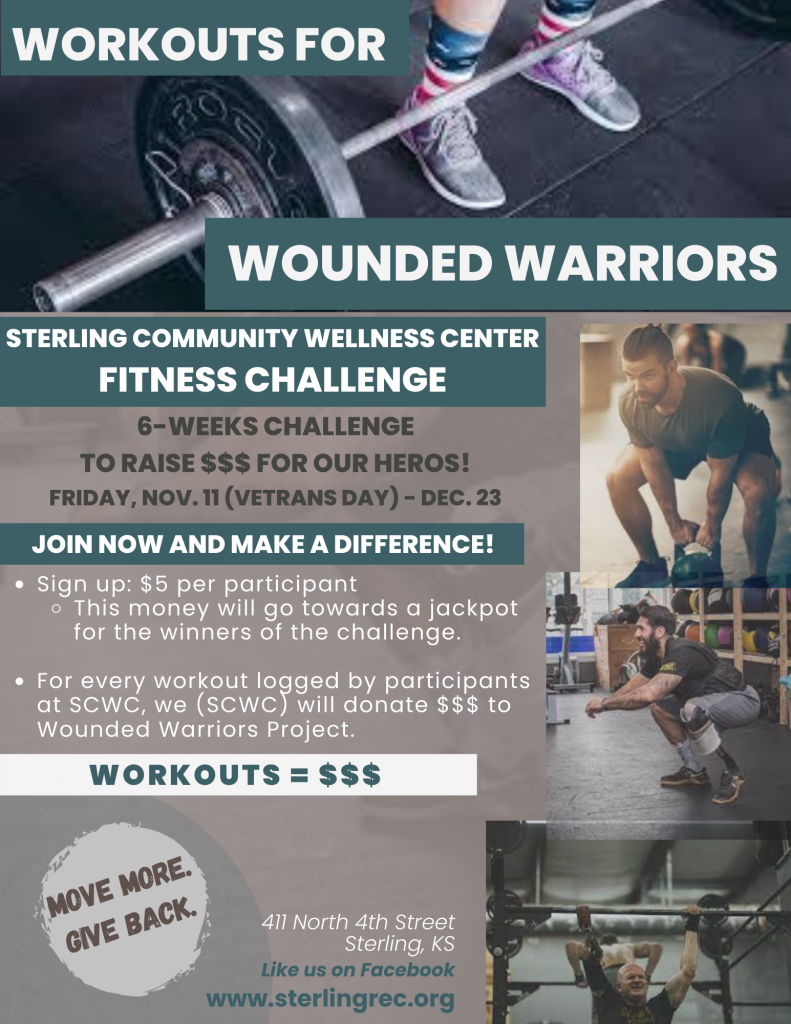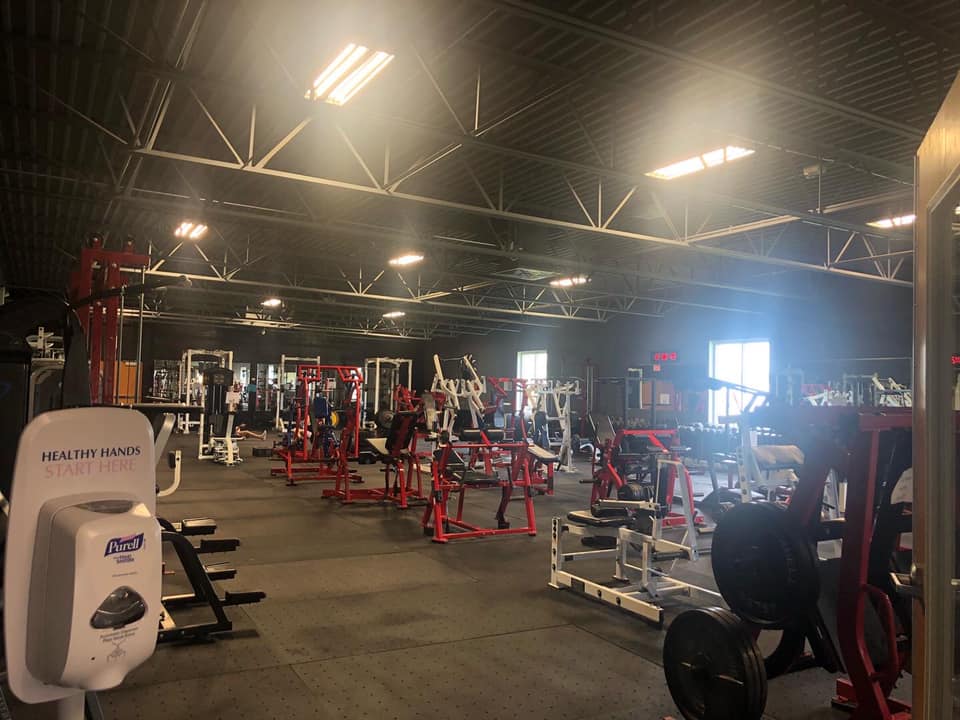 CARDIO EQUIPMENT
5 Life Fitness Treadmills
2 Cybex Recumbent Bikes
2 Life Fitness Elliptical
2 Cybex Arc Trainers
StairMaster
Nu-Step
Concept 2 Rower
Spin Bike
Weight Room Equipment
6 Nautilus Machines with "Lock n' Load" weight system:
Abdominal Crunch
Rotary Torso Twist
Leg Press
Prone Hamstring Curl
Leg Press
Rear Deltoid
Gravitron
5 Power Racks
Variety of plate-loaded machines
Variety of selectorized equipment
Battle Ropes
Hydromassage Lounge (include picture attached.)
Inversion Table
Pilates Reformer
Stretch Area
Medicine Balls
Barre
Dumbbells (3lbs-120lbs)
TRX Bands
Resistance Loop Bands
Stability Balls
Bosu Balls
A JOINT EFFORT
The Sterling Community Wellness Center was a joint effort between USD 376, the Sterling Recreation Commission, and the Sterling community. Construction and operation of a facility of this magnitude could not have been possible by any of these entities alone. It required some give and take by all parties to make this joint effort a win-win for all. This is a very bold concept and one that has taken much effort and forethought. Every effort has been made and will continue to be made to make this a facility that we can all be proud of.
Every effort will be made to develop a rate structure for membership fees that will make access to this facility affordable for any member of our community that desires to improve their health. In this day of rising health care costs, every dollar spent on this facility and its operation can be worth thousands of dollars saved in health care costs in our community.
People from every corner of our community have been involved in planning this facility and its operation. Healthcare providers, district patrons, elderly taxpayers, health enthusiasts, and educators from our community have all been involved in the planning and will continue to have input in all future operations.
STAFFING
The SRC use money from membership fees to offset the cost of staffing the facility. Consideration will be given to provide staffing to meet as many of the demands of the membership as possible. Usage rates of the membership will dictate the hours and quantity of staffing. The Sterling Community Wellness center is supervised and operated by a friendly and knowledgeable staff that can and will help members meet their goals and needs. One of the most important considerations in staffing is to provide staff that can work with healthcare providers to tailor programs that can meet the needs of patients that are referred to the fitness center.